Dil Shayari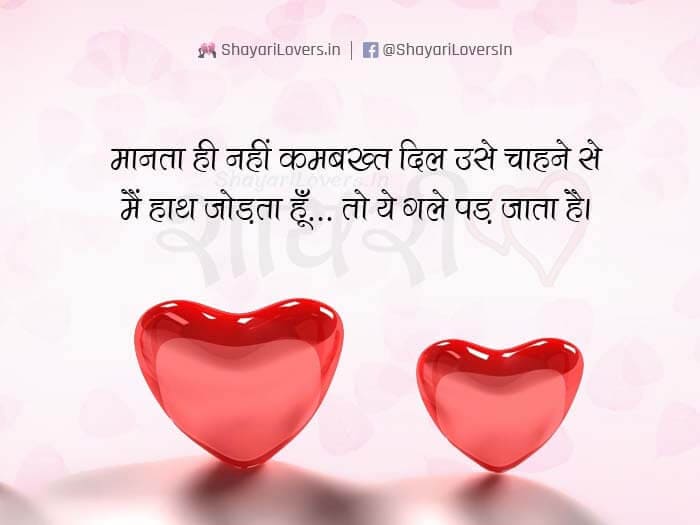 मानता ही नहीं कमबख्त दिल उसे चाहने से,
मैं हाथ जोड़ता हूँ तो ये गले पड़ जाता है।
Manta Hi Nahi Kambakht Dil Usey Chahne Se,
Main Haath Jodta Hoon To Ye Gale Pad Jata Hai.
न पूछ दिल की हकीक़त मगर ये कहता है,
वो भी बेक़रार रहे जिसने बेक़रार किया।
Na Poochh Dil Ki Hakiqat Magar Ye Kehta Hai,
Wo Bhi Bekaraar Rahe Jisne Bekarar Kiya.
इस दिल की दास्ताँ भी बड़ी अजीब होती है,
बड़ी मुश्किल से इसे ख़ुशी नसीब होती है,
किसी के पास आने पर ख़ुशी हो न हो,
पर दूर जाने पर बड़ी तकलीफ होती है।
Iss Dil Ki Daastaan Bhi Badi Ajeeb Hoti Hai,
Badi Mushkil Se Ise Khushi Naseeb Hoti Hai,
Kisi Ke Paas Aane Par Khushi Ho Na Ho,
Par Door Jaane Par Badi Takleef Hoti Hai.
अब जिसके जी में आये वही पाये रौशनी,
हमने तो दिल जला कर सरेआम रख दिया।
Ab Jiske Jee Mein Aaye Wohi Paaye Roshani,
Humne To Dil Jala Kar Sar-e-Aam Rakh Diya.
मेरे लबों का तबस्सुम तो सबने देख लिया,
जो दिल पे बीत रही है वो कोई क्या जाने।
Mere Labon Ka Tabassum To Sabne Dekh Liya,
Jo Dil Pe Beet Rahi Hai Wo Koi Kya Jaane.
फिर वही दिल की गुज़ारिश, फिर वही उनका ग़ुरूर,
फिर वही उनकी शरारत, फिर वही मेरा कुसूर।
Fir Wahi Dil Ki Guzarish Fir Wahi Unka Guroor,
Fir Wahi Unki Shararat, Fir Wahi Mera Qasoor.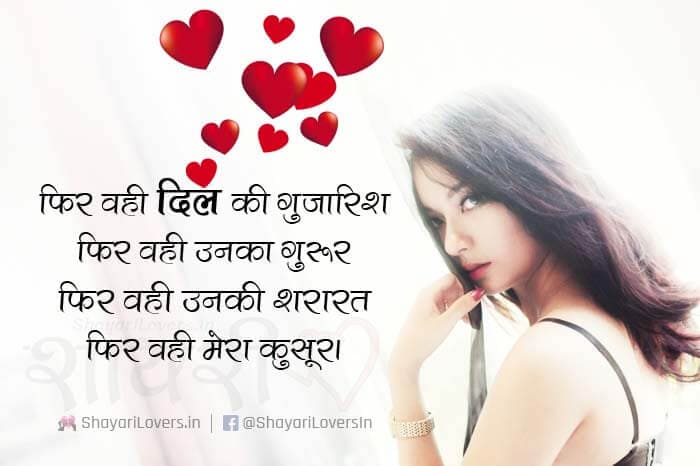 तेरी खामोशी जला देती है इस दिल की तमन्नाओं को,
बाकी सारी बातें अच्छी है तेरी तस्वीर में।
Teri Khamoshi Jala Deti Hai Iss Dil Ki Tamannao Ko,
Baaki Saari Baatein Achhi Hain Teri Tasvir Mein.
काश उसे चाहने का अरमान न होता,
मैं होश में रहते हुए अनजान न होता,
ना प्यार होता किसी पत्थर दिल से हमको,
या फिर कोई पत्थर दिल इंसान न होता।
Kaash Usey Chahne Ka Armaan Na Hota,
Main Hosh Mein Rehte Huye Anjaan Na Hota,
Na Pyar Hota Kisi Patthar Dil Se HumKo,
Ya Fir Koi Patthar Dil Insaan Na Hota.