Sad Shayari
Read here our vastest collection of hindi sad shayari. You can get here very emotional sad hindi shayari for gloomy heart lover. If you are feeling very sad due to love break-up or harsh behaviour of lover, reading sad poetry may help overcome the situation of sadness. You can express your sad feelings to your girlfriend or boyfriend with a suitable sad shayari.
We have posted numerous latest sad shayari in hindi & english font in our collection. All popular shero-shayari available here like shayari for girls, sad wallpaper shayari photo, sad poetry in urdu, best sad message 2020, heart touching sad shayaris etc. You can share these shayari as sad status on facebook & whatsapp or send as sad sms.
I hope you will definately like this page. Share your feedback through comment box or contact us form.
हर तन्हा रात में एक नाम याद आता है,
कभी सुबह कभी शाम याद आता है,
जब सोचते हैं कर लें दोबारा मोहब्बत,
फिर पहली मोहब्बत का अंजाम याद आता है।
Har Tanha Raat Mein Ek Naam Yaad Aata Hai,
Kabhi Subhah To Kabhi Shaam Yaad Aata Hai,
Jab Sochte Hain Kar Lein Dobara Mohabbat,
Fir Pehli Mohabbat Ka Anzaam Yaad Aata Hai.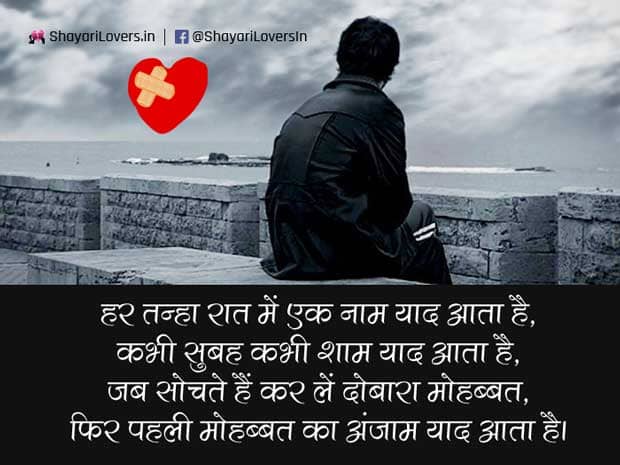 वो तेरे खत तेरी तस्वीर और सूखे फूल,
बहुत उदास करती हैं मुझको निशानियाँ तेरी।
Wo Tere Khat Teri Tasvir Aur Sookhe Phool,
Bahut Udaas Karti Hain Mujhko Nishaniyan Teri.
अब न खोलो मेरे घर के उदास दरवाज़े,
हवा का शोर मेरी उलझनें बढ़ा देता है।
Ab Na Kholo Mere Ghar Ke Udaas Darwaze,
Hawa Ka Shor Meri Uljhanein Bada Deta Hai.
चल मेरे हमनशीं अब कहीं और चल,
इस चमन में अब अपना गुजारा नहीं,
बात होती गुलों तक तो सह लेते हम,
अब काँटों पे भी हक हमारा नहीं।
Chal Mere Hum-Nashin Ab Kahin Aur Chal,
Iss Chaman Mein Ab Apna Gujaara Nahi,
Baat Hoti Gulon Tak To Seh Lete Hum,
Ab To Kaanton Pe Bhi Haq Humara Nahi.
एक ये ख्वाहिश के कोई ज़ख्म न देखे दिल का,
एक ये हसरत कि कोई देखने वाला तो होता।
Ek Ye Khwahish Ki Koi Zakhm Na Dekhe Dil Ka,
Ek Ye Hasrat Ke Koi Dekhne Wala To Hota.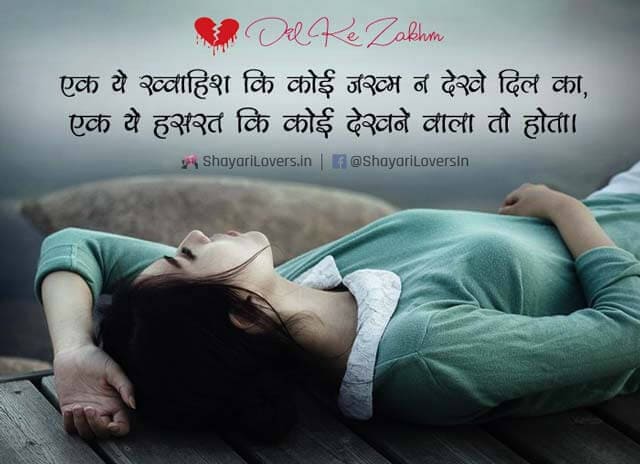 ये वफ़ा की सख़्त राहें ये तुम्हारे पाँव नाज़ुक,
न लो इंतकाम मुझसे मेरे साथ-साथ चल के।
Ye Wafa Ki Sakht Raahein Ye Tumhare Paanvv Nazuk,
Na Lo Intekaam Mujhse Mere Saath-Saath Chal Ke.
सिर्फ चेहरे की उदासी से
भर आये तेरी आँखों में आँसू,
मेरे दिल का क्या आलम है
ये तो तू अभी जानता नहीं।
Sirf Chehre Ki Udaasi Se
Bhar Aaye Teri Aankhon Mein Aansoo,
Mere Dil Ka Kya Aalam Hai
Ye To Tu Abhi Jaanta Nahi.