Maa Shayari
There is no substitute for the mother in this world and it is considered as the second form of God. Everybody loves the mother and want to share some poetic words like Maa Shayari to her. We have a beautiful collection of Maa Shayari in Hindi. You can send your favourite Shayari for Maa on this Mother's Day.
So friends, read and enjoy our vastest collection of Top Maa Shayari of 2021, Happy Mothers Day SMS, Maa Status and Beautiful Maa Shayari Wallpapers for Whatsapp DP.
सर पर जो हाथ फेरे तो हिम्मत मिल जाये,
माँ एक बार मुस्कुरा दे तो जन्नत मिल जाये।
Sar Par Jo Haath Fere To Himmat Mil Jaye,
Maa Ek Baar Muskura De To Jannat Mil Jaye.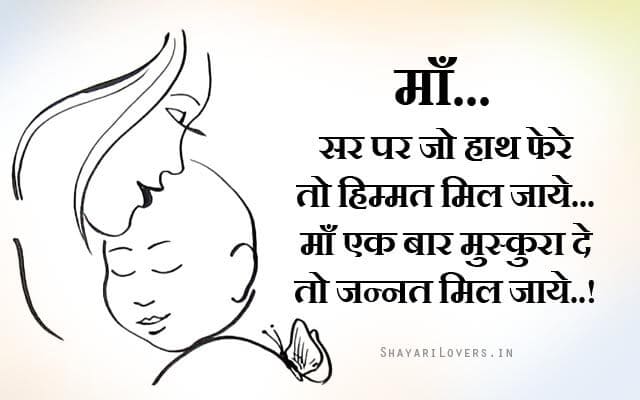 चलती फिरती आँखों से अज़ाँ देखी है,
मैंने जन्नत तो नहीं देखी है माँ देखी है।
Chalti Firti Aankhon Se Azaan Dehi Hai,
Maine Jannat To Nahi Dekhi Hai Maa Dekhi Hai.
सीधा साधा भोला भाला मैं ही सब से सच्चा हूँ,
कितना भी हो जाऊं बड़ा माँ आज भी तेरा बच्चा हूँ।
Seedha Sadha Bhola Bhala Main Hi Sabse Achchha Hoon,
Kitna Bhi Ho Jaaun Bada Maa Aaj Bhi Tera Bachcha Hoon.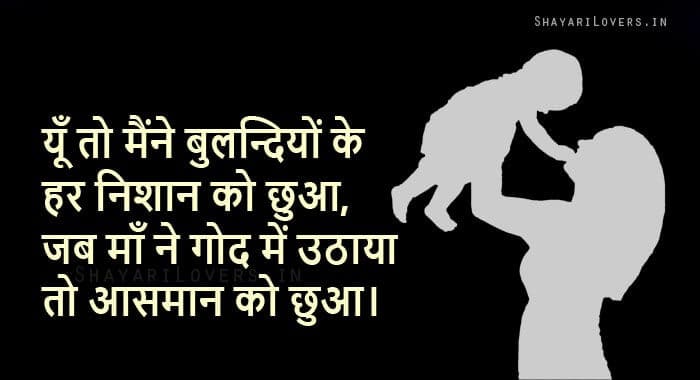 यूँ तो मैंने बुलन्दियों के हर निशान को छुआ,
जब माँ ने गोद में उठाया तो आसमान को छुआ।
Yun To Maine Bulandiyon Ke Har Nishaan Ko Chhuaa,
Jab Maa Ne God Mein Uthaya To Aasman Ko Chhuaa.
वो लिखा के लाई है किस्मत में जागना,
माँ कैसे सो सकेगी कि बेटा सफ़र में है।
Wo To Likha Ke Laayi Hai Kismat Mein Jaagna,
Maa Kaise So Sakegi Ki Beta Safar Mein Hai.
ऐ अँधेरे देख मुँह तेरा काला हो गया,
माँ ने आँखें खोल दी घर में उजाला हो गया।
Aye Andhere Dekh Tera Munh Kala Ho Gaya,
Maa Ne Aankhein Khol Di Ghar Mein Ujala Ho Gaya.
माँ पहले आँसू आते थे तो तुम याद आती थी,
आज तुम याद आती हो और आँसू निकल आते है।
Maa Pehle Aansu Aate The To Tum Yaad Aati Thi,
Aaj Tum Yaad Aati Ho Aur Aansu Nikal Aate Hai.
बद्दुआ संतान को इक माँ कभी देती नहीं,
धूप से छाले मिले जो छाँव बैठी है सहेज।
BadDuaa Santaan Ko Ek Maa Kabhi Deti Nahin,
Dhoop Se Chhale Mile Jo Chhaon Baithhi Hai Sehej.
सख्त राहों में भी आसान सफ़र लगता है,
ये मेरी माँ की दुआओं का असर लगता है।
Sakht Raahon Mein Bhi Aasaan Safar Lagta Hai,
Yeh Meri Maa Ki Duaaon Ka Asar Lagta Hai.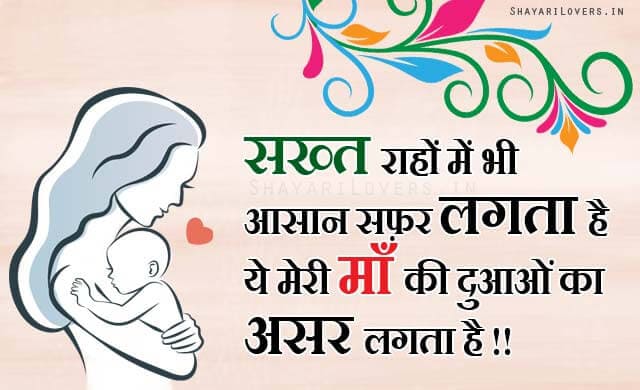 जब-जब कागज पर लिखा मैंने माँ का नाम,
कलम अदब से बोल उठी हो गये चारों धाम।
Jab Jab Kagaj Par Likha Maine Maa Ka Naam,
Kalam Adab Se Bol Uthi Ho Gaye Charo Dhaam.