Two Line Khamoshi Shayari
तेरी खामोशी, अगर तेरी मज़बूरी है,
तो रहने दे इश्क़ कौन सा जरुरी है।
Teri Khamoshi Agar Teri Majboori Hai,
To Rehne De Ishq Kaun Sa Jaroori Hai.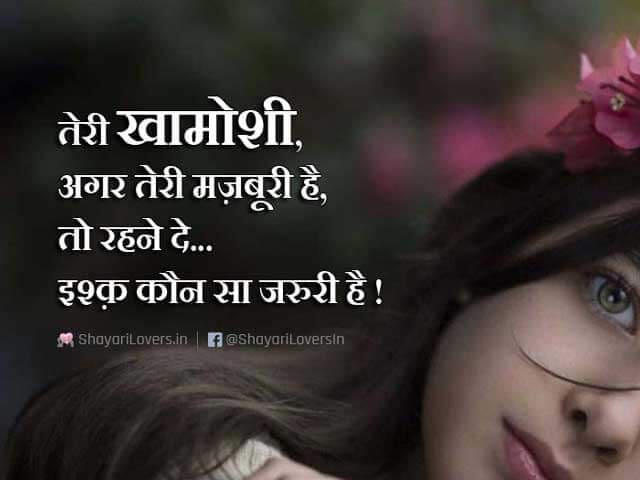 अगर एहसास बयां हो जाते लफ्जों से,
तो फिर कौन करता तारीफ खामोशियों की।
Agar Ehsaas Bayaan Ho Jaate Lafzon Se,
To Fir Kaun Karta Tareef Khamoshiyon Ki.
हजारों जवाब से अच्छी मेरी खामोशी,
न जाने कितने सवालों की आबरू रख ली।
Hajaaro Jawab Se Achchhi Meri Khamoshi,
Na Jane Kitne Sawalon Ki Aabroo Rakh Li.
खामोशियाँ वही रही ता-उम्र दरमियाँ,
बस वक़्त के सितम और हसीन होते गए।
Khamoshiyan Wahi Rahi Ta-Umr Darmiyaan,
Bas Waqt Ke Sitam Aur Haseen Hote Gaye.