Yaad Shayari, Teri Yaadon Ka Zeher
तेरी यादों का जहर फैल गया है दिल में,
मैंने बहुत देर कर दी है तुझे भुलाने में।
Teri Yaadon Ka Zeher Phail Gaya Hai Dil Mein,
Maine Bahut Der Kar Di Hai Tujhe Bhulane Mein.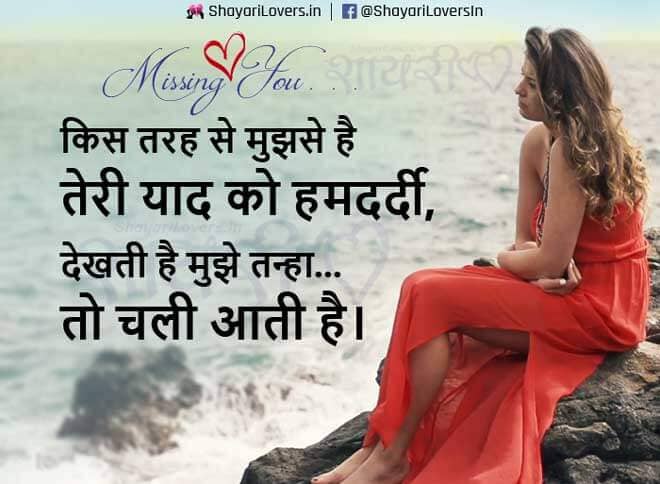 किस तरह से मुझसे है तेरी याद को हमदर्दी,
देखती है मुझे तन्हा... तो चली आती है।
Kis Tarah Se Mujhse Hai Teri Yaad Ko HumDardi,
Dekhti Hai Mujhe Tanha... To Chali Aati Hai.
नये ज़माने में जब भी खुद को उदास पाऊंगा,
यह शाम याद करके अपने ग़म को भूल जाऊंगा।
Naye Zamane Mein Jab Bhi Khud Ko Udaas Paaunga,
Ye Shaam Yaad Karke Apne Gham Bhool Jaunga.
नहीं आती तो याद उनकी महीनों तक नहीं आती,
मगर जब याद आती है तो अक्सर याद आती है।
Nahi Aati To Yaad Unki Maheeno Tak Nahi Aati,
Magar Jab Yaad Aati Hai To Aksar Yaad Aati Hai.